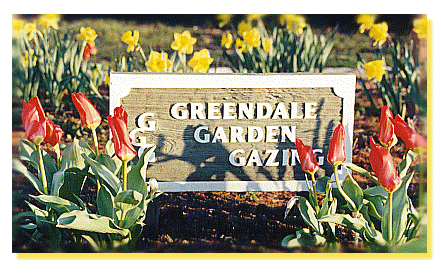 List of Featured Gardens . Old Greendale . New Greendale . Information

The 21st Annual Greendale Garden Gazing Walk
will be held on
Saturday July 11, 2015
from 8:00 a.m. to 12:00 noon
starting at the Greendale Gazebo
in beautiful, historic downtown Greendale, Wisconsin.

We had another great Garden walk in 2014.
Thanks again to all who participated!
JSonline article about Bill Attewell & Jorge Cabal and the Garden Walk, 6/29/2012


---
This FREE tour starts at the Gazebo located in the Greendale Village Center.
Click here for directions.
There will be demonstrations by Southeast Wisconsin Master Gardeners, as well as several
drawings for gift baskets of "garden related items" to anyone who registers.
Rest Areas with free refreshments are also provided.
The Friends of Wehr Nature Center and Wild Ones Natural Landscaping will be at the Gazebo.

Come and join us on the tour!
List of Featured Gardens


In 1936 the new preplanned community of the Village of Greendale was established with it's own distinct architecture, new homes, green belts and many pedestrian pathways. These hearty pioneer first residents immediately established their own school system, government, churches, businesses and forms of entertainment.

The Village was patterned after the English Garden City concept that emphasized the use of parks and large open spaces called Green Belts. The quaint village homes were constructed of cinder block, pine beamed ceilings and tile roofs.
As with all human nature there was a desire to enjoy and improve living conditions and this also extended to the development of flower and vegetable gardens, thus Greendale became known as the Garden Community.

In 1995, some Greendale residents were aware that the many hidden gardens along the many pedestrian pathways and green belts in the oldest sections of the village were almost unknown and not being appreciated by the general population.
They established a committee called Greendale Garden Gazing and Bruce Bond created a special logo just for the group. Their goal was and remains to emphasize the warmth, friendliness and concept of Greendale as the Garden Community.

This was done by designing ever changing, free, self-guided walking garden tours. The tour starts at the Gazebo in downtown Greendale, and is where maps are distributed by volunteers.

The tour moves from one Featured Garden to another, with most of the gardeners available to answer questions about their flowers or garden design.
2015 marks the Twenty-first Annual Walking Garden Tour, which started in 1995.

There are refreshments and popcorn for our walkers. Two free baskets full of gardening-related gifts, donated by our sponsors, are given away at two free drawings.


Greendale Garden Gazing would like to thank . . .
Apples of Eden
Broad Street Coffee Company
Jay & Sally Chadwick
Cherri's Savor the Flavor
Sherain & Margaret Duransik
WI Cactus & Succulent Club
Ferch's Malt Shoppe & Grille
Gift of Wings
Grandhaven
Greendale Chamber of Commerce
Greendale Community Church
Greendale Dept. of Public Works
Greendale Police Dept.
Greendale Village Board
Greendale Visitor Center
Grey & Grayer Acoustic Trio
Joey Girards/The Bartolotta Restaurants
Margo's Village Boutique
National Baking Company
Prescott Miller Jewelers
Ricardo's
Roots Salon & Spa
Seasons of the Heart
Smaxx & Cade Jewelers
SE Wisc. Master Gardeners
Sugar & Flour
They Grow Like Weeds
Tri City National Bank
Wehr Nature Center

. . . for their support


2014 Membership List
Jan Seitz, Co-Chairperson
Paula Wallner, Co-Chairperson
Chris Holley
Pam Kania
Susan Milarch
JoAnn Richards


2014 Volunteers
Linda Artmann
Lynn Binder
Rosie Bronikowski
Sally Chadwick
Kathy Christensen
Margaret Duransik
Dee Ircink
Paula Irish
Elaine McDermott
Lynda Nelson
Faith O'Connell
Lori Putskey
Beth Thode
Bob Wallner


2014 Set Up
Jim Gill
Bruce Holley
Ryan Holley
Jim Kania
Herb Ripka (Chalk Man and webmaster)

Mission Statement: To share our heritage and instill Greendale's spirit through showcasing community gardens



Please come and join us!!!




Follow the links below to view fabulous pictures of Greendale gardens,
past and present, or to find out information about this years walk.
The next Greendale Garden walk will be on Saturday July 11, 2015.







---